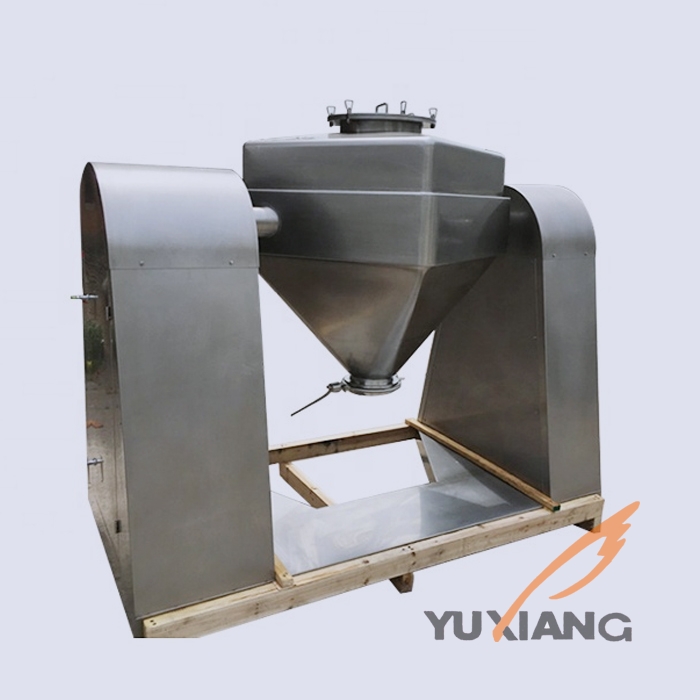 High Efficient Double Cone Mixer
General DescriptionsDouble cones efficient mixer can mix materials equally, it can shorten mixing period, lower energy consumption and guarantee product quality
INQUIRY
General Descriptions
Double cones efficient mixer can mix materials equally, it can shorten mixing period, lower energy consumption and guarantee product quality, which has played an important role in increasing production efficiency. It is a kind of ideal equipment for mixing solid powder.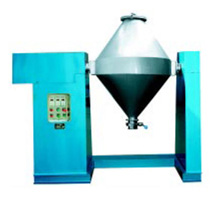 Principles and features:
This mixing cylinder adopts the double cones structure. The materials are rolled back and forth in the cylinder. After cis-turn for few minutes, the roll can be reversed, to accelerate the spreading, flowing and shearing of materials, so that no accumulation will occur during mixing operation. When mixing materials of different specific gravity or thickness, the proportion of segregation does not occur. So the equal mixing effect will be reached rapidly.
Application:
Applicable for powder metallurgy, magnetic materials, electrical alloys, tungsten alloys, precious metal powder, non-ferrous metal powder, pearlescent pigments, chemicals, abrasive and other industries.
Technical Data:
Model
Mixing cylinder volume
(m3)
loading coefficient
Motor power
(kw)
Outline dimension
L×W×H(mm)
Weight
(kg)
ZX-0.002
0.002
30-50
0.09
500×200×300
40
ZX-0.005
0.005
30-50
0.2
650×250×450
60
ZX-0.01
0.01
30-50
0.37
800×300×650
100
ZX-0.02
0.02
30-50
0.55
980×400×850
180
ZX-0.05
0.05
30-50
0.75
1350×500×1100
380
ZX-0.1
0.1
30-50
1.1
1580×650×1350
550
ZX-0.2
0.2
30-50
1.5
1800×750×1650
680
ZX-0.3
0.3
30-50
2.2
2050×850×1850
800
ZX-0.4
0.4
30-50
3
2300×950×2000
1000
ZX-0.5
0.5
30-50
3
2400×1050×2100
1200
ZX-0.8
0.8
30-50
4
2500×1200×2300
1400
ZX-1
1
30-50
4
2800×1500×2500
1800
ZX-2
2
30-50
5.5
3400×1600×2700
2100
ZX-3
3
30-50
7.5
3500×1680×2900
2400
ZX-4
4
30-50
7.5
3600×1800×3100
2600
ZX-5
5
30-50
11
3900×1900×3300
2800
ZX-6
6
30-50
11
4100×2000×3500
3000
ZX-8
8
30-50
15
4300×2200×3700
4000